Yesterday
I said that
Moxie
means looking squarely at the thing that scares you and acting anyway
. I promised to you that I would be on the look out for opportunities
to be brave and speak up instead of quietly going about my business.
Sadly, I have to say that I failed. I can say that I heard my moxie mantra ringing in my ears a couple of times but I just didn't act.
One of those occasions was yesterday when this guy, a rather scruffy looking dad who was with his son at the park, tried on several occasions to interact with me. I was at the park with my group of mommy friends, we go there most Mondays and we, and our kids, really take over the place. His appearance not withstanding he had another strike against him. He was a man. Our little mommy group has always been welcoming to the spouses of our little click but a singleton man without a wifely introduction has little chance of garnering much attention from us.
We really don't intend to be so unwelcoming. It is just that we have spent several years together and we have a friendship that allows for speaking in shorthand. You know, with a shared knowing eye or just the right gesture which now speaks more then any word can ever say. This poor Dad had already been a recipient of some unspoken language when he got really flustered by one of the little girls in our group repeatedly pulling her shirt up over her head. Clearly he hasn't spent much time with the preschool set so our reaction which more properly could be called a complete lack of a response was probably slightly upsetting to him.
No matter, he kept on. Forging ahead with comments about this or that or about what each kid was doing. At one point, after the parks and recreation department had stopped by to fix our parks little water feature, it was this Dad who sat by the fountain mediating who's turn it was or was not to push the button. The kids were having a great time and he was performing a fabulous service as I was able to stay perched on my bench with out interruption.
As we were all gathering to leave, somehow the mommy conversation turned to vegetarianism. We are a typically crunchy California crew and several of us are vegetarian (not me at the moment) and if not do eat vegetarian food on a fairly regular basis (again I can't count me in this number). The bulk of my participation in this conversation was my consideration to return to a more vegetarian diet, I was vegan in my 20s and all the bacon I now consume is weighing on my heart (particularly with my
pig giveaway
underway... but I digress!) and at some point this Dad jumped in to ask this question:
"Can you make a
good meal
like that? With all Vegetables?"
He went on to explain that he was a bar-b-que guy and his wife's friend was vegetarian and he just didn't know what she could eat.
This is where my moxie failed me. There were suddenly a lot of "knowing glances" being exchanged among our crew. A kind of overall "It figures, this guy doesn't know about vegetarian food." An honest observation perhaps but as I walked away I began to realize how positively dismissive we all were towards him. We answered him with trite responses.
"Of course you can make great vegetable based meals." Without any further explanation. Not even a little mention of how portobello mushrooms are awesome when grilled. I do remember tossing out that vegetarian chili can be as good as meat based ones but my comments were intended to end the conversation not engage it.
This poor guy spent an entire afternoon being the odd man out and when he tried to interact with us, on our current topic of choice I totally blew him off! I believe he was genuinely interested in figuring out what vegetarianism was all about. If we had taken the time to converse with him it might have been possible to get him interested in trying something. I know that if I was alone I would have answered his questions but there in my pack it was simple to just walk away.
Was he a guy I wanted to get to know better? Not particularly but I really think I could have been a hell of a lot more gracious. What made this whole thing a moxie failing for me is that I felt this way BEFORE I walked away. My friend Shannon and I had even, moments previously, engaged in a conversation about high school clicks (a posse of teen girls were within earshot totally dissing a classmate) and how we are glad to be out of that situation. What irony to feel like I was doing the very same thing in an
adult
context.
My realization further crystalized as I was driving away but to tell the full truth I didn't really want to to be the brave one who actually interacted with him. First, I didn't want to be the odd one out among my friends. The guy was a little weird and I didn't get the impression anyone really wanted to risk his becoming a regular at
our
park. I was feeling bad about how I was behaving but I didn't really know what to do. So I did what has become normal. I took the easy way out and just walked away.
Would I respond any differently in future similar situations because of this experience? I certainly hope so but as I sit here typing away I am really not convinced. Moxie is weak in this one.
So what do you think you would have done? Have you "spoken up" recently even though it was hard for you?
I am participating in the "Pour Your Heart Out" Meme with this post. It wasn't easy to write and I am interested in what you have to say about it. Thank you so much for your comments.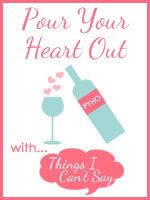 Please also visit Shell our host to read more Pour Your Heart Out Stories!
Next Post: Someone who has moxie!
My 13 bliss virtues are
joy, order, creativity, passion, whimsy, serenity, inquiry, community,
romance, gratitude, moxie, humility, and surprise.


This week we are studying Moxie. Next up is Humility Week