SURPRISE - A sudden feeling of wonder or astonishment; to come upon or discover suddenly and unexpectedly. [Surprise week starts here.
Click for this week's
Bliss Initiatives
.]
I was talking with my friend Britta the other day and she said she didn't know how I did it. How did I came up with something to write about each day? I said something like, having a specific topic to talk about really helps but here during SURPRISE WEEK it isn't quite the same. I am trying to go off road from my normal posts,
that TMI Rat Post
should have been a clear indication, but let me tell you this makes it very hard!
To complicate matters further, I started this blog in a little bubble. I decided to try my bliss experiment (
Read this
and
this
if you weren't there at the beginning and/or if you are interested) and just started posting about my experience. I had no idea that other people were even out there blogging too. I mean I KNEW they were out there, culturally speaking, I just hadn't been introduced yet.
Now I have dozens of new blogging friends, people I likely will never meet in person, although it would thrill me to do so. Three of these new friends even chimed in on my game.
Having all these new blogging friends complicates things further because they are always introducing me to fun new blog games which don't necessarily fit in on my usual blog post, things like the Monday Memoir and TMI Thursday which I introduced yesterday. So today in a random surprising sort of way I'm just going to do it all...
Here is how it is going to work... I'm going to start with the Friday Follow.... did it last week and had a ton of fun. I'll be updating with the FF in a few minutes. Then I will be coming back to update with all the other games I choose to play. I'll put the new games, like 5 question Friday, in this same post so check back through out the day to see what happens. I have NO IDEA what all this re-posting will look like on the Facebook Fan page -- its an experiment so we'll see.
As a bonus to those of you who are interested in the Big Everyday Bliss Giveaway for today, and today only, you can comment more then once on today's post for an entry each time. You can make as many comments as blog games I decide to play -- and one for right now if you want. I'll let you know when I'm done and how many comments total that will be a bit later.
OK then have fun! I'll meet you back here a bit later!
********FRIDAY FOLLOW********
<
href="http://www.mcklinky.com/blog_hop.asp" target="_blank">
********Five Question Friday********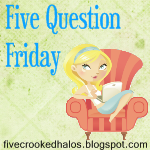 Questions for Friday, 3/19/10
: (Thanks to
Ann
,
Lula Lola
,
Pam
,
Robin
, and
Lily
for their question suggestions!! Wanna be linked in a future 5
QF
? Head on over here, to
my community
, and offer up your best questions! Anything flies!!)
1
.
Have you ever had a celeb sighting?
Yes. When I was in middle school my family took a vacation in Bermuda. My sister and I were playing pin ball (yes it was that long ago) the hotel arcade and Sylvester Stalone was playing right beside us. I was so star struck my ball rolled right down the middle with out my even trying to flip it. By the way he is very short.
2. What temperature do you keep your house?
72 degrees. My Husband is a heat fanatic. I think it is crazy and wastes fuel. Not sure I'll ever win this one.
3. Do you notice dust at other peoples homes?
Hell no. I hope they return the favor when they visit mine.
4. What's the worst job you ever had?
I answered this once before... I have no memory for these type of things. If it was bad I have forgotten it. My optimist brain does not allow me to store this
5. What is your most sentimental possession?
My engagement ring. I love that it is always on my hand and I get to enjoy it everyday.
********Friday Fragments********
UGG!! Did you know that if you inadvertently close the window when you are editing a live post you will lose everything... well that is what just happened.!!! Blast is all I can say...
Lets see if I can recap. I am not playing this game entirely correctly. Since I usually do my fragment stuff in my Sunday posts... as I wrap up each week, I have decided to come up with a couple of other fragmenty things, hopefully to be in the spirit of the game that Mrs. 4444 (Pronounced Mrs. Fours) came up with over at Half Past Kissin' Time. Here goes:
I never would have guessed I would be one of those women! You know the type the ones who can't help but tell their birth stories to women they never met before. It happened again today. Three women I had never met were talking about their birth stories and I was compelled to jump in. Jessie was born almost three years ago yet I tell this story with a scary regularity. Does it ever stop? Question posed to moms of older kids... your thoughts are most welcome!! For the record Jessie's miraculous, albeit induced, birth took less then four hours of labor and without drugs. I know this is not the norm. Please don't hate me.
After a friendly birth story swapping luncheon I came home and checked Facebook to find this photo had been posted by an old college friend:
I'm the gal in the middle. This from my stint as Student Association President in college. Not the greatest photo of any of us but I am very thankful someone took the time to scan one in... I may never do it myself but thanks to facebook I am getting a nice collection from all areas of my life!
Final fragment for today. I am thrilled that we are going out to dinner so I don't have to think about cooking!
********Cover Friday********
This Meme, just learned this word... I tell you I am slow! (From dictionary.com "
a cultural item that is transmitted by repetition in a manner analogous to the biological transmission of genes.") is from Hey! Lady Jane. She posts the cover of a book and does a little book review. Her choice this week is
Hop right over to read her review! Here is my choice for the week, no wait it is my choice for the year! LOL Anyone who reads my blog knows I love this book! Heck it is part of the
BIG EVERYDAY BLISS GIVEAWAY
. Anyway I'm not going to review it except to say I think everyone should read it! Google it for a more in depth view!
********Aloha Friday********
This entire post is probably in direct contradiction to what Kallani over at

An Island Life

Intended whe

n she wrote: In Hawaii, Aloha Friday is the day that we take it easy and look forward to the weekend. So I thought that on Fridays I would take it easy on posting, too. Therefore, I'll ask a simple question for you to answer. Nothing that requires a lengthy response.
Her question for this week is Can you keep a secret? My answer would be yes.
*******O.K. Last one. I know there are more, maybe next time!********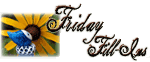 1. Today I will be Happy
2. Daddy and I say why not?
3. What do you think of Obama's Healthcare likely passing this weekend?
4. At Google's free employee Kitchen (it is always free!) it's free Pastry Day til 1030 Friday!
5. People say that what we're all seeking is LOVE.
6. The image I cherish most is my girl hugging me first thing in the AM.
7. And as for the weekend, tonight I'm looking forward to the potluck dinner tomorrow my plans include preschool open houses and Sunday, I want to get a massage!
Friday Fill Ins... pretty fun! Thanks all. Have a great weekend! And if you are playing the Big Giveaway Game you can comment up to six times today... one for each game and the original post! Woo Hoo somebody is going to win something!!!
Next Post: I'm not telling... it is a surprise!
My 13 bliss virtues: joy, order, creativity, passion, whimsy, serenity, inquiry, community, romance, gratitude, moxie, humility, surprise